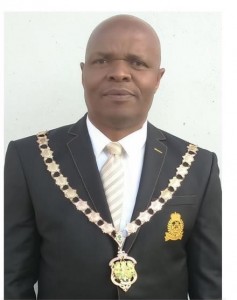 Profile of Mayor T.J. Motaung
Tlokotsi John Motaung was elected the Mayor of the Phumelela Local Municipality in October 2005, just before the March 2006 Local Government Elections. He was elected to serve the first full term as Mayor in March 2006 and was re-elected for a second term of office following the Local Government Elections in May 2011.Motaung was born in October 1963 and was schooled at Tshidiso-Xolane Primary School(Tweeling) and Evungwini Senior Secondary School(Vrede).He qualified as an educator at Tshiya College of education in 1990 where he obtained a Secondary Teachers Diploma.He was a member of the Tshiya College Choir that toured Europe in 1990 and also visited Israel,Switzerland and Italy for three weeks.As a student activist,Motaung took part in the Anti-Afrikaans disturbance of 1989 to 1990 and was one of the founding members of the ANC Thembalihle Branch in 1990 after the unbanning of the ANC and other political parties. After completing his studies at Tshiya College of Education in 1990, Motaung was employed as an educator at Evungwini Senior Secondary School by Free State Department of Education, where he worked for almost 17 years. He taught Sesotho and Mathematics from Grade 8 to Grade 12.He resigned in April 2006 after he was deployed by the ANC to be a full-time Mayor.
Mr. Motaung served as Thembalihle ANC Branch Secretary and Chairperson, he also served as member of the REC of the former Frankfort Region and he is the REC of the Thabo Mofutsanyana Region. He was part of the first group of councilors to represent the ANC in 1995 in the Vrede/Thembalihle Transitional Local Council.From 1999 to 2000, he represented Vrede Transitional Council to the Eastern Free State District council.In 2000, he represented the Phumelela Local Municipality in the Thabo Mofutsanyana District Municipality. He also served as a Ward Councillor from 1995 until the present.
Given his involvement in the local government sector from 1995. Motaung has extensive background and he is still willing to learn and ensure a better life for all the inhabitants of the Phumelela Local Municipality.
He has just completed the following courses, (ELMDP) Executive Leadership Municipal Development Programme; (University of Pretoria) and Certificate Programme Management Development (CPMD) MF, (Wits). He is currently doing Certificate in Project Management and Financial Management for Non-Financial Managers with the University of the Free State.